We had a pretty exciting September 2018. After being idle and enjoying the regular "pet" life for about 8-9 weeks or so, Wild Spirit Samoyeds hit the road in Mid-September (from 9/22/18-9/30/18) to Purina Farms, MO for the Samoyed Club of America's 2018 National Specialty. This was our first National Specialty and we had a great time and continued to learn a lot and to be amazed by the generally welcoming nature and friendliness of the greater Samoyed community. The girls had an exhausting week of showing and for our first time at Nationals, we were very happy and excited with our showing.
GCH Bark Bark's Sedona Spirit of Juno (Sadie):
The week kicked off for us with the "Elements of the Standards" competition, where entrants are are judged by 3 experienced breeders judges to determine which exhibitor demonstrates that particular aspect (being judged) the most closely with to the official SCA standard. Sadie won both Best Female Head and Best Female Coat. Very high honors indeed and we were grateful to the judges for selecting her over so many nice entrants.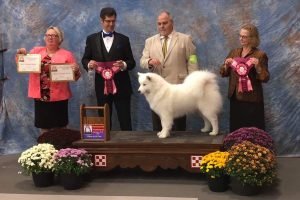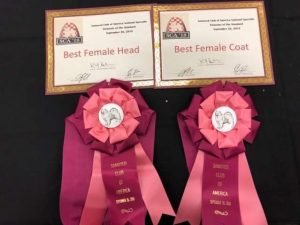 CH Bark Bark N Wild Spirits Desert Star (Aster):
Aster entered the Best of Breed round for the first time as a young 9.5 month old puppy after earning her CH at just 7 months old. The Best of Breed round featured approximately 160+ of the best Samoyeds in the county. Its a grueling, multi-hour process where the dogs and then bitches have to undergo a series of eliminations to reach the top-8 of each sex that make the final cut. The Best of Breed and Best of Opposite Sex are selected from those ranks. Young Aster really stepped up to the plate and make it all the way to the final bitch cut down (top 10-15 females, out of approximately 75) before discovering she was still a young puppy and running out of gas. We were immensely proud of her nonetheless.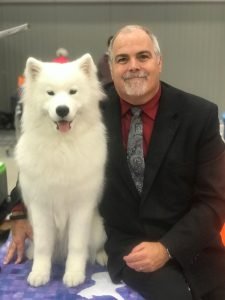 Here is a short video of Aster (and Tim) making the first of 3 cuts… 5 from this group of 15 or so were selected to move to the next round. Aster was pulled out by the judge first. Thanks to Aster's Breeder Claire O'Neill for the video. All in all, it was a great week for us and as a side bonus, both girls had their eyes cleared for OFA and we began the all important initial process of looking for a Stud dog for Sadie, who we intend to breed in the fall of 2019. Wild Spirit Samoyeds