And we wouldn't have it
any other way
Welcome to Wild Spirit Samoyeds
Wild Spirit Samoyeds is an ethical and responsible breeder of champion Samoyeds. We are located in Central Texas in the USA.
Our show dogs are, first and foremost, our pets. They live in our home, sleep on our beds, and lounge on our furniture at will. Our breedings are each carefully and thoughtfully planned, which means we have just a few litters per year. We strive for quality over quantity.
We take responsible breeding very seriously. For that reason, when we do decide to breed, it's a very special pairing that we believe will result in improving on our lines and our breed as a whole. Please watch this page for news and updates on when we hope to have puppies available.
In the meantime, you might catch us at a dog show or in our neighborhood walking our pack of beautiful Samoyeds. If so, we hope that you'll say hello!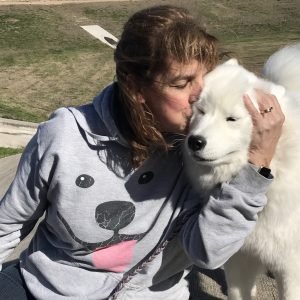 Before purchasing a Samoyed, please read this article that has been adapted from: DON'T BUY A BOUVIER! by Pam Green (c.1992)